Disclaimer: No, I'm not the world's foremost expert on Venezuela, just trying to start a conversation about the current situation. And, yes, I may be persona non grata or whatever, but I figure if I want to save the BFC, the least I can do is post something. If no one comments or votes, well, I'll cope.
Honestly, the situation is still fairly difficult to parse. You probably know the background: Hugo Chavez, an army captain, decent journalist, better baseball player, and world-class attention whore, took power in Venezuela, following free and fair elections, in 1999, seven years after attempting a failed military coup. He nationalized the oil, championed "Bolivarian Socialism," stacked the courts and used them to remove the Venezuelan constitution's term limits, founded ALBA (a mutual aid "alternative" to the World Bank and IMF, comprising Venezuela, Ecuador, Bolivia, Nicaragua, and Cuba, with Haiti and Argentina as sort of honorary members), called US President GWBush "the devil" at the United Nations, got cancer, was sick for a couple of years, and then died.
This is how I like to remember him; surrounded by cocaine, squirrels,
and fellow Bolivarians like Evo Morales, who just got an ass-kissing writeup
in the NYT about how well he's running Bolivia and why the IMF and World Bank
are so totally gay for the ALBA stalwart and committed socialist:
http://www.nytimes.com/2014/02/17/world ... ility.html
Chavez left behind a strong and thriving ALBA, thanks to his generous deals on oil and facilitation of Cuban-based health care. (Basically, he would trade oil to Cuba for doctors, and then send medical teams to places like Nicaragua and Haiti; when I lived in Nicaragua, even the expats would go see the Cuban doctors when they came through, because they were the best. The doctors were rumored to be closely watched, and blackmailed with threats to their families to make sure they wouldn't defect to Nicaragua, though Nicaragua isn't where you'd want to defect! Well, unless you're Cuban, I suppose.)
Venezuela, however, was economically in shambles. You could barely own a restaurant, much less a store, thanks to the ludicrous price controls. Sure, yeah, subsidize rice and beans, even gasoline and electricity, I think that's fine. But when you start fixing the prices of consumer electronics, you've jumped the shark. When I was there you didn't see the roadside restaurants and little shops omnipresent everywhere else in Latin America, including other ALBA countries. Most businesses I saw were auto shops, geared to pimping out the six-ton Detroit dinosaurs that rolled all over that country on 15¢/gallon gas.
This beauty was parked in front of my awesome Merida hotel, which would have cost US$75/night at the official exchange rate,
but was only about US$18 on the black market. The black market, btw, was everywhere – it's not like Argentina, where you need
to find a realtor or drug dealer, the bakery in that photo would cash me out.
Support for Hugo was nearly universal when I was there. I'll never forget the dude who said, "Chavez is the best president we've ever had!" Why? "Because things haven't gotten worse."
Apparently previous leaders had set the bar pretty low, and Hugo's hand-picked successor, a charisma-free former bus driver named Nicolas Maduro, was elected by a thin but probably real margin in 2013.
Maduro, looking every centimeter the sane, democratic frontman for a normal, resource-rich country
that he absolutely is not.
Maduro's douchy but by all accounts competent competition, Henrique Capriles,
governor of wealthy Miranda state. And as about half the Maduro campaign ads
reminded you, a dirty Jew with his dirty Jew gold, who loves Israel, and the USA,
and World Bank, and IMF, because he is a Jew and that's just how they are. But if
you look at his record, this guy is probably to the left of Obama, he's really just a
right winger in the Bolivarian context, but so are most people.
Now, dedicated TFHCers will note that there was some conspiracy controversy surrounding the transfer of power. Chavez believed he had been deliberately infected with cancer - by the CIA, Big Oil, Big Finance, or one of his other numerous enemies. I think this could be true (my money's on Big Oil). Maduro struck many Venezuela watchers as a piss-poor choice for president, and rumors swirled that he was a plant (by the same bad guys). Which seems much less likely. Though there were loads of election irregularities, Jimmy Carter gave his normally trustworthy stamp of approval to the mess, which was odd. Although Chavez wanted to be buried in a normal grave in his hometown, Maduro said he would have Hugo mummified and put on display, like Ho Chi Minh and Lenin…. and then changed his mind. He still talks to Chavez regularly. The whole thing is pretty weird, even by magical realism standards.
Moving on, the rest of Latin America, though there were very serious disagreements with Chavez and now an eye-rolling frustration with Maduro, has remained unified in its support of the "democratically elected government of Venezuela."
Even conservative, business-loving suits like Yale economics professor and former
Mexican President Ernesto Zedillo deflect external calls for interference with support
for democracy. When asked, at the World Economic Forum, how the world should
"deal with" Venezuela, he was all, "What do you mean, 'deal with'? Like in
cards?" Currently, the *only* Latin American leader who has broken ranks and
called Maduro out is Nobel Prize winner and former Costa Rican President Oscar
Arias. Not even Chavez' arch-nemesis, former Colombian President Alvaro Uribe
(recently elected to the Colombian assembly - DRAMA) has said anything about
deposing Maduro. Sure, Latino politicians in the USA, including Senator Marco Rubio and
Representative Ileana Ros-Lehtinen, both Florida Republicans (shocker), are
calling for US action in Venezuela to have Maduro removed. But they don't really
count.
No matter what his counterparts are saying, Maduro is incompetent. Like, ridiculously incompetent. Yeah, sure, the problem with nationalizing everything is that the head of state becomes the CEO of everything, and no one can be the CEO of everything. But Chavez, for all his copious faults, was a great leader, could inspire people to action, and was an extremely competent CEO, until he got sick for two years. Maduro…. Not so much. For starters, he put more price controls on everything. Not just rice and beans, laptops and smartphones. The nationalized oil, which has been suffering from a long-term "strike" by international technicians who refuse fix aging equipment, began having even more problems. Maduro made it more difficult to run businesses, import anything, or get foreign currency. To paraphrase Churchill, when you get rid of the free market, you create a black market. And that black market contributed to all sorts of organized crime.
(It's worth noting that the other ALBA countries are doing pretty well—like I mentioned earlier, Bolivia is the darling of the investment world, Ecuador is solid, Nicaragua's been enjoying 5-8% annual growth for years, and even perpetual basket-case Cuba just began a US$900 million expansion of the Mariel Port, clearly gearing up for the lifting of the US Blockade. All four countries also enjoy fairly good security situations, by regional standards anyway.)
The main problem with development in Latin America, as identified by economists from across the spectrum, isn't education (that's number two), it's the lack of rule of law. Without security, you aren't going to get investment, tourism, anything going on. The English-language press likes to blame "Bolivarian Socialism," and there's something to that, but look at other ALBA countries, for example, Nicaragua - it's piss poor, a development black hole, there isn't a paved road across the freaking country, democracy is a joke - but the economy is booming. Why? Because it's relatively safe. Venezuela is rich, but the corruption (much of it deliberately enhanced to keep Chavez in power) and the unreal security issues - it's famously got the highest murder rate in the world - make it impossible to get the economy sorted out despite floating on a sea of oil.
Hugo never focused much on security; Maduro apparently can't focus on anything. If the international secret police forces AREN'T on the streets if Caracas fomenting more violence and chaos, in order to leverage in a more globalization-friendly leader, they aren't doing their jobs and don't deserve your tax money. There's oil and finance on the line, people. But there were already HUGE security problems and it's going to be difficult to fix, no matter what your political affiliation.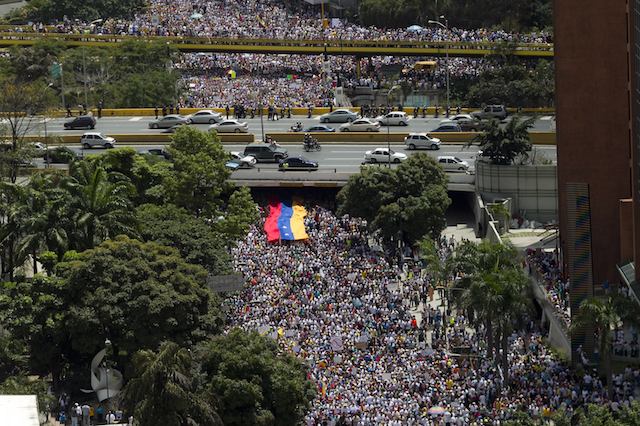 This image, like so many picked up by the English-language press after the beginning of
the fracas in Caracas, is photoshopped. Both sides were so shameless that they started calling
it "Photoshop Spring." Most of the pics you've seen floating around on the Internet of people
who had been seriously beaten by Maduro, or the opposition forces, are probably from Syria,
Egypt, or elsewhere.
And, despite what you've probably heard in English, the protests didn't begin because of Maduro. They started out as a sort of a general protest against the violence.
When soap opera star and former Miss Venezuela Monica Spear got shot, it was the last straw.
This is where everything gets a tad confusing. It seems that Maduro overreacted, because he thought it was a protest against him. He started cracking down on the anti-violence protesters, and they responded by marching in greater numbers. Things started becoming quite violent, in places, though a friend who is down there trying to update a travel guide for Footprints says that the images you're seeing with riot police, tear gas, weapons, and so forth are NOT typical; most of the protests have "a distinct family picnic atmosphere."
Even weirder, the guy who started organizing the anti-violence protests into anti-Maduro protests, the dreamy Harvard-educated economist and one of the 400 Venezuelans blocked from running for election in 2008 by Hugo's goon squad…. I mean, the electoral commission, Leopoldo Lopez, turned himself in. I shit you not. After the first wave of fairly serious anti-Maduro protests, the feds put out a warrant for Lopez on terrorism charges, which any normal, sane person would have ignored, because Maduro is a psycho fighting for political survival in a country where rule of law is shaky on a good day. But instead, Lopez turned himself in, on February 18, and has been out of the picture ever since.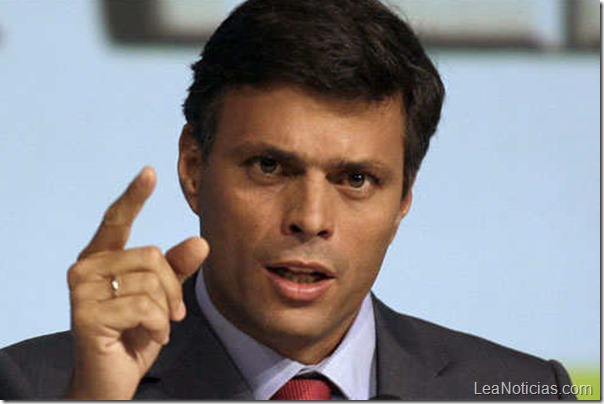 OK, so he's obviously not that bright. But that face! I'd vote for him just so I could look at that
all the time, assuming Venezuelan teevee is still interrupted whenever a government official
wants to make a speech, multiple times per day under Chavez. Unfortunately for horny housewives
everywhere, however, Capriles—whose position as "opposition leader" was threatened by the
wealthy, sexy professional protester—has taken full advantage of Lopez' incarceration to
consolidate the opposition behind himself. Which means he's well positioned for special elections.
So, what happens now? As I posted on the Thread That Shall Hopefully Fall Off the Front Page, Never to Return (TTSHFOTFPNTR) I think they're going to have to have special elections later this year, and Capriles will take power. However, Venezuela is so fucked up, and people are so against privatizing the oil or re-globalizing the economy with the World Bank and IMF, that he will fail. And another Bolivarian candidate will run in the next regular election, in 2018, and assuming ALBA is still going strong in Ecuador, Nicaragua, Cuba, and Bolivia (I see no reason why it wouldn't be), that candidate will win. But Capriles gets his shot.
There are other options in the poll, however.
TL; DR Maduro is a bloodthirsty, incompetent loser and cannot maintain power. The protests, while not nearly as large or violent as English-language news source are reporting, are ongoing, and anti-Maduro sentiment is solidifying, even among his traditional base. What do you suppose will happen next?