I stumbled over this... jezzzis friggin keerist..I would rather take a sat phone for that kinda money
http://www.bayleyknife.com/images/bear_02_hd.jpg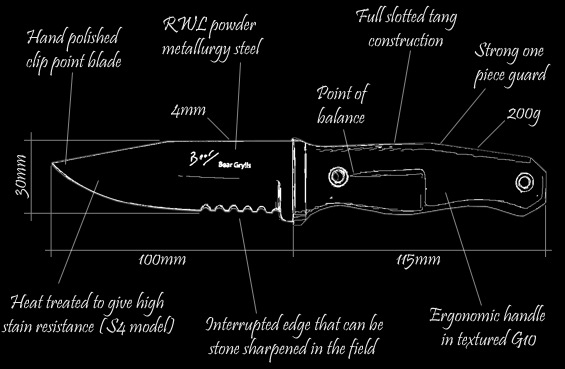 Bear Grylls Knife
http://www.bayleyknife.com/site/bear.aspx
What Knife does Bear Grylls Use?
The Bear Grylls knife used on the Man vs. Wild survival show on the Discovery Channel had me stumped for quite some time. At first I thought perhaps Bears knife was one of the SOG knives used by Navy Seals or even a Becker Knife but a closer look showed Grylls knife and sheath to be much different.
Bear Grylls survival knife as far as I knew could have been a one-of-a-kind custom made knife until a sharp reader of Survival Topics chanced upon the answer. According to this source, Bear Grylls knife came about when he decided the best survival knife had not yet been made.
How Bear Grylls Knife Came to Be
Grylls teamed with the knife expert Robert Bayely to make a knife design more to the survivor's liking. Robert Bayely is known for making excellent custom survival knives that are sought after by collectors. By teaming up with Bear they could market the famous survival hosts name on top of the knife manufacturers reputation.
Knife Bear Grylls Uses
Knife Bear Grylls Uses
The Bear Grylls knife was designed according to the following characteristics: First off Bear Grylls knife needed to be strong and durable. Of course the best survival knives are made with full tang blades. His personal preference was for a one piece knife guard, which makes sense when making a survival knife that can withstand great punishment and continue to function. Bear's knife had to be easily carried without restricting movement and so was designed slim, lightweight, and of reasonable size.
The Grylls Survival Knife Stats
The handle of Bear Grylls survival knife is Bead blasted and attached to an RWL Swedish powder steel blade. It comes with a leather sheath that can be worn horizontally, which is my favorite position.
Blade size is 100mm X 30 X 4 (3.9inches x 1.2 x .16) which is in the range of a good survival knife. Total length 215mm (8.5 inches) and weighing in at 200grams (7 ounces).
Other Knives Used by Bear Grylls
Since this article has been written a number of readers have sent in their observations on Man Vs Wild knife sightings. Survival knives chosen for use by Bear Grylls include:
* Buck Iceman
* Titanium Pro Dive Knife
* Wenger Serrated Mountaineer Knife
* Gerber Gator Serrater with Clip Point
* Buck Iceman
* Titanium Pro Dive Knife
One reader claims he saw Bear Grylls using a Becker Knife but I have not be able to confirm this. If you know of any other blades let me know and I will post them here.
Where to Buy Bear Grylls Knife
The Bear Grylls knife is the most expensive survival knife I have covered, at 350GBP or over US$710. However if you are enamored of Bear Grylls, a knife collector, or expense is no option Bear Grylls knife might be just plain fun to have.
More Survival Topics on Page 16
* Email this Survival Topic to a Friend