So, the other day I get an e-mail from DPx Gear's customer support, asking for my phone number for their "files". Sure no problem. Later that night I get a call from a random phone number. I answer, and it's DPx Gear's customer support. She proceeds to tell me that I was one of a few chosen to "test" out the HEST/f 2.0. This morning, I get notification that their post office has received notification of the package so it should be in the mail today!
Little back story, I bought a first run production HEST/f, which I had to send back several times for different reasons. (My DPx Gear customer service experience was excellent btw) Everyone seemed okay out of the box except the first which had a horribly strong detent. After a week or two of really nothing more than opening them I ended up having lock issues or tight pivots and off centered blades.
CLIFFS: DPx Gear is sending me a HEST/f 2.0 to "test" out. You guys got any suggestions?
So my initial impressions of the HEST/f 2.0 are pretty good. It looks like DPx Gear listened to the customers gripes and concerns and tried to put out a better product than their first run. I noticed quite a few differences as the day went on. I'm really excited about this knife, more so than I was about the first one when I got it. I really think they did a good job fixing the issues with the original.
1.Solid g10 on one side instead of a steel liner and g10 scale. The weight difference is only is 5oz compared to 4.9 oz on the new one.
2.The new g10 has a cut out in it for easier access to the frame lock. The original didn't bother me to much, but I have to say that with this new cut out the lock is extremely easy to get to, there is no reaching around the scale anymore.
3.The spacer is noticably longer than the original and doesn't really taper off like it did before. I'de say it comes about 4-5mm farther down the back of the knife than before.
4.The clip is a solid clip instead of the old one with square cut outs in it. I haven't tried to bend this one yet but right now it has enough retention to hold itself in my pocket. I'll get back to you guys on that once I snag it on something for the first time.
5.I have to really try to get my finger on the blade from the backside while it's closed. The old one, If not careful you could cut yourself while it was in your pocket. I have pretty small hands, and I really have to squeeze my finger on it to get it to touch, sure it could possible cut me but I don't ever see this being the issue.
6. The handle is a bit wider than the old. I didn't ever have a problem gripping the old one, but this one feels pretty good in hand as well. I'm also assuming that this was to help the exposed tip issue.
7.Of the three hest/f 1.0 knives that I had in my possession two of them had a horribly strong detent, no matter how loose the pivot was. The detent on this one is very pleasant. It doesn't fall open but it takes little to no effort to overcome it.
8.They removed the open "arrow" from the lock. (some people had issues with that apparently.)
So the knife was pretty tight, and the lock was really sticky. I've opened and closed this guy somewhere around 2000-2500 times and I'm glad to say that there is zero sticking in the lock anymore. When I got the knife the lock up was around 45-50%, now i'm at 55-60% which I'm perfectly okay with especially since it's not sticking anymore!
Overall, I'm very pleased with this new knife. I have to say that I really think DPx Gear did this one right. It seems that all the complaints or issues were addressed with this "new and improved" model. I'm 100% more pleased/excited about this knife than I was the 1.0 after I got it in hand. So far the only real complaint I have is that the g10 liner is pushed on the stand offs so tight that adjusting the pivot doesn't do much. I tried to work it out without adjusting the pivot but after 1800 open and closes with a tight pivot and sticky lock, my thumb was killing me. I ended up backing the pivot out just a hair, and then putting a little pressure on the g10 to pry it up just a bit. After that I used the pivot screw to tighten the g10 back down to a sweet spot with not blade play and acceptable stiffness/ease of open.
If you guys have any requests for pictures or anything let me know.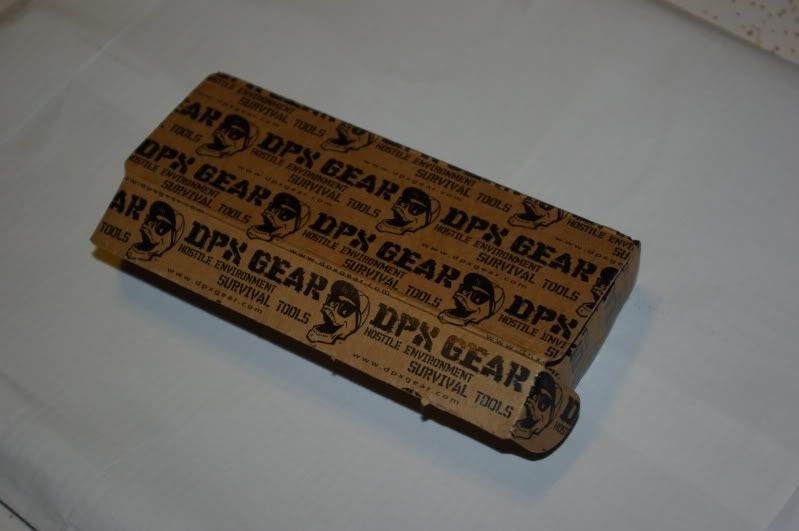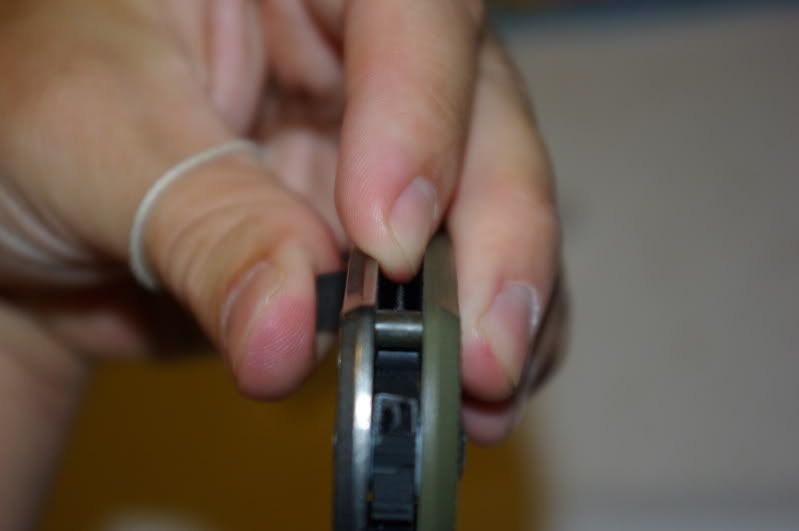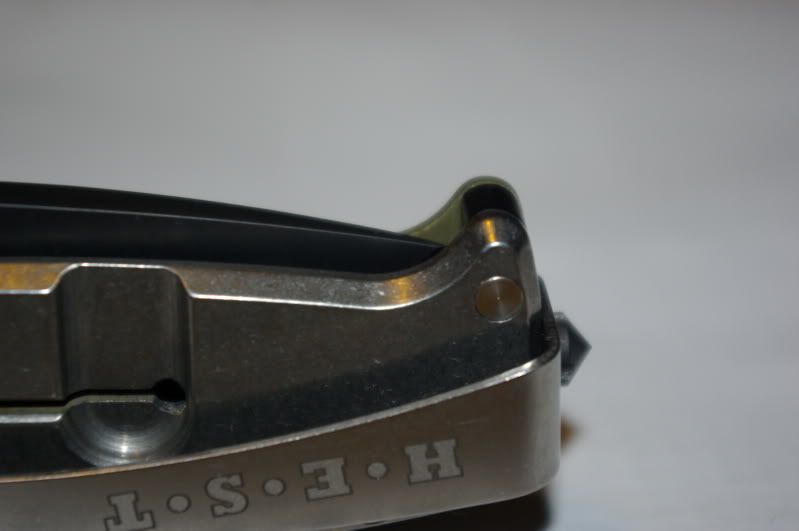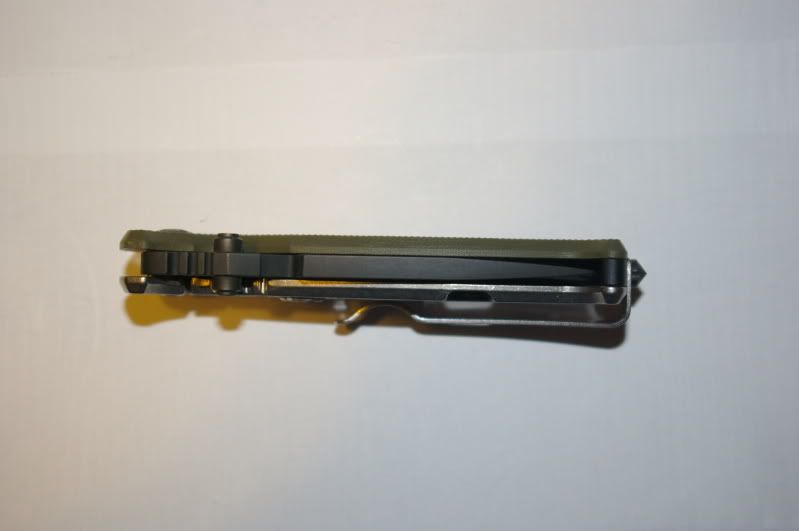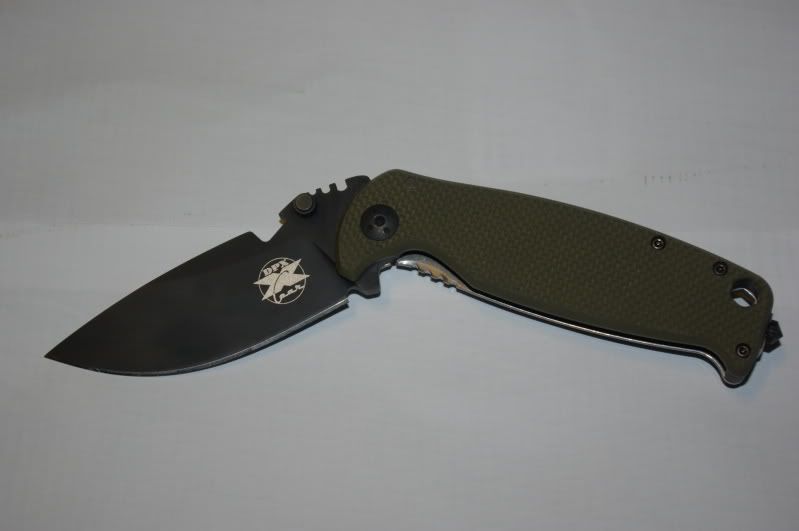 Complimentary shirt!!!!!!!