So, my favorite conspiracy theory site points out that not only did the invasions of Iraq and Libya happen on the same day, with almost the same opening words, but also on the eve of the Vernal Equinox. Neither country attacked the USA to provoke such an attack on that specific day, and both US administrations deliberately avoided adhering to Constitutional laws that might have delayed the wars beyond this "important" astronomical date.
The Vernal Equinox, of course, is traditionally celebrated with human sacrifice. In some traditions, including those linked to ancient Egypt, sacrifices were of young men sacred to Horus (who was sacrificed and resurrected like Jesus:
http://www.religioustolerance.org/chr_jcpa5b.htm
). Elsewhere, multiple young men were sacrificed to the sexualized Dawn Goddess known as Eostra, Ishtar, Aphrodite, Astarte, etc, in order to guarantee fertile crops; she gives Easter her name. Remnants of traditional Vernal Equinox sacrifice of young men are still celebrated with ritualized reenactments of the crucifixion of Jesus Christ.
I guess the theist fundy nutters wanted real human sacrifices in 2003 and 2011 for some reason. Maybe the supermoon?. The ceremony began with a shaman repeating almost exactly the same words, on the same date, March 19. The actual sacrifice began the following day, March 20, eve of the Equinox, with the ritual bombing of civilians.
MARCH 19, 2011
OBAMA: 'Today we are part of a broad coalition. We are answering the calls of a threatened people. And we are acting in the interests of the United States and the world'…
MARCH 19, 2003
BUSH: 'American and coalition forces are in the early stages of military operations to disarm Iraq, to free its people and to defend the world from grave danger'…
http://vigilantcitizen.com/latestnews/i ... l-equinox/
See, I think that's a fucked up way to celebrate Easter, by killing people. I prefer those Cadbury Eggs with the kind of gross (yet irresistible) syrupy filling, and the commercials with the clucking rabbits. Killing a bunch of young men to pacify a sex goddess or re-enact the sacrifice of a Middle Eastern tribal myth seems a bit excessively superstitious, no?
Hey Rummy, you can break chocolate eggs to enjoy a delicious Easter, rather than using the
term "eggs" as an obscene symbolic euphemism for murdering innocent people.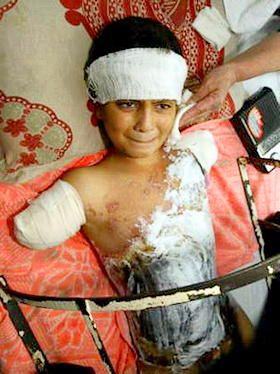 Unless you're a theist freak, or Donald Rumsfeld, you should be able to tell the difference
between Easter eggs/omelet ingredients, and actual human beings. It's tricky when they're
dyed different colors like that, though. I suppose.
Now, WTF is up with all the equinox wars? They wanted to start the bombing of Belgrade on the Vernal Equinox, too, but were four days late because they wanted go-ahead from the UN. This is the kind of shit that makes me think I'd remain an atheist out of spite even if I knew that their weird bloodthirsty gods existed.