I know the official CNN/FOX/BBC/Economist/Time/NYT/WSJ/Al-Jazeera/etc version: The glorious and proud Libyan people, after four long and murderous decades of horrifying, inhumane, dictatorial oppression by the insanely cruel, greedy, and evil dictator Gaddafi (sp?), saw the triumph of free, beautiful democracy in Egypt and Tunisia and spontaneously rose up to throw off the tyrant, and create a beautiful paradise where there was once only fear and pain. And rapes.
Fair and balanced news
you can trust, from objective
journalists.
I think this point of view is certainly a valid interpretation of events, speaking as someone who isn't in Tripoli right now. And it certainly gets plenty of press. But that should be discussed on the main BFC page.
This is the Tin Foil Hat Cafe, so I'm looking for evidence of the other version(s) of events. Specifically, I'd like links and information posted here, like a little library of Libya conspiracies. Certainly traditional conspiracy sources, such as Prison Planet and Russia Today, are more than welcome, but if you find more reputable links that suggest, say, the Libyan rebels are affiliated with al-Qaeda, that would be more interesting to me personally. I'd love info from within Libya, run through google translate if necessary.
Here's the basic conspiracy narrative that seems to be solidifying:
1. The New World Order/Illuminati/Council of Foreign Relations/IMF/etc have had designs on MENA oilfields for decades, and their secret plan kicked in on September 11, 2001, for one of several reasons ranging from "the WTC attacks gave us a crisis to take advantage of" to "the antichrist is returning because of the millennium thing" to "peak oil passed and that's when this shit was scheduled to kick in."
Oh please, Reagan? Hah. The plans I am referring to go back to the 1950s. But I still think this
photo is kind of fun. Who is that poor kid in the K-Mart suit lulz.
2. What we are watching is the implementation of plans made decades ago by really smart people, but things have not gone according to plan for a variety of reasons.
I did my best, but intelligence is only partially determined
by genetics, and even then not reliably inherited. As my
stupid dad would have known if he were really SO smart.
3. After being brutally humbled by resistance in Afghanistan and Iraq, Coalition leaders wisely decided to postpone the occupation of Iran and focus on a smaller, weaker, less well prepared oil-producing country, Libya. First, they lured Gaddafi into a false sense of security, allowing him to speak at the UN, giving him the Lockerbie Bomber for his birthday, and lifting sanctions. This didn't work as well as Gaddafi led them to believe.
"He's totally falling for it! Everyone trusts my smile!"
"This guy is a cunt. But I'll be gone soon, and it will benefit my people if I rebuild relations
with the globalists before that happens. He's still a fucking cunt though. Where is my
hand sanitizer? And my military? And my Sharia finance? Goldman Sachs can come in,
but they aren't privatizing my Central Bank or inflicting predatory credit on my people!
4. Arab Spring was a Kermit Roosevelt-type of operation, but planned much further in advance by the CIA + British, Saudi, Qatari, Israeli, and other intelligence agencies. To create the Arab Spring, they (a) coopted local resistance movements by placing agents provacateur within various organizations, funneling them money, getting them press, etc; (b) manipulated social media to inspire others unsatisfied with the regime; (3) concocted some impressive political theater that sent octogenarian Mubarak into retirement with US$70 billion as a severance package and Coalition-controlled military still in charge and (d) made sure that the international corporate media kept everything spinning properly, targeting western Muslims and sympathizers with special care.
Yeah, right. "BFFs forever," sure. But you put that fucking retirement package deal in writing, Barry,
and if the CIA murders me, I will make sure I get my revenge. Did you ever see The Mummy? Fucking
bugs will eat you, BUGS, you and all your descendants; only that Encino Man kid gets to live.
5. Gadafi figured out what was up well before the Arab Spring began - Fidel Castro had heard about the ruse, as had Hugo Chavez and various others in the loose confederation of anti-globalist states. Fidel said he was alerted by his sources within NATO, but I'm wondering if there wasn't a mole close to Sarkozy. At any rate, Gadafi knew what was coming, and led them to believe that he would step down just like Mubarak before him.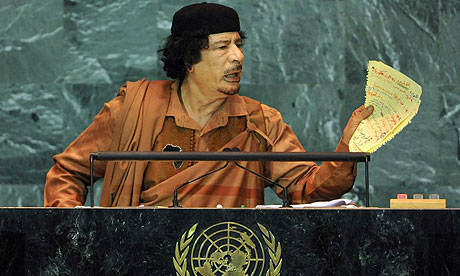 "Bitches don't know about my insider information," said the crazy fox.
6. The Libyan rebels, led (perhaps opaquely) by the Pentagon contacts within al-Qaeda and promised all sorts of stuff--well beyond the usual 72 virgin raisins their former employers had discussed - were pretty much fucked. But the bankers and oil corporations had too much on the line to let their pet Islamists be crushed, and called in NATO.
Allahu Admiral Akbar!
7. Journalists covering the rebellion were either under corporate control, sequestered away from the fighting, or killed if they threatened to tell the world the real story.
CODA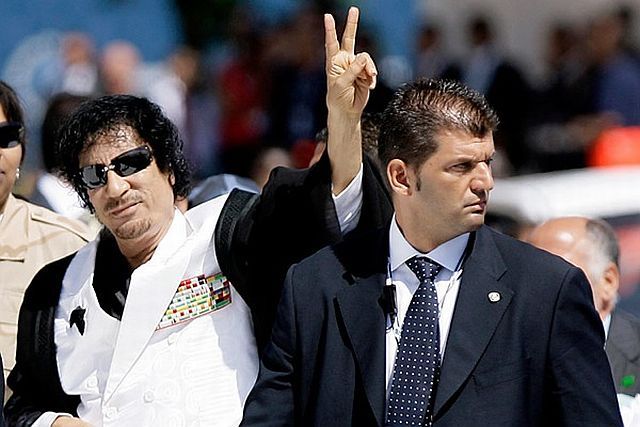 Aaaaaaaand...... here's where everything goes totally mushy. Are the rebels killing civilians in Tripoli? Yes, but who, and why? IAre they still affiliated with al-Qaeda? Maybe. Who is getting the oil contracts and why? What happens to the water? Was there a big shakeup at the top about this Libya mess? After all, two big Illuminati players - Domenique Strass-Kahn and Rupert Murdoch - also went down during the fighting - and Sarkozy's role is obviously enormous. And, while the corporate controlled press has proclaimed Gadafi dead and gone a hundred times since the fighting began on February 15 (lol Illuminati expected him gone by the end of the month), he's still there. What's going on? Conspiring minds want to know.
Just as an aside, I've always sort of put Gadafi in the same file as Tito - a dictator, oppressive sure, but not that bad considering the alternatives. Certainly I wouldn't have chosen to live in Gadafi's Libya if my other options were the USA or Canada, but I'd obviously prefer it to Saudi Arabia or Nigeria. And here's a perhaps ridiculous attempt at symmetry. Tito fought for a pyrrhic loss at the *beginning* of his career, one that may have save the entire world from the most cruel world order imaginable.
OK, I know I'll probably end up being the only one who bothers to post relevant articles and videos, and most of yall will just make snide comments without bothering to help, but PLEASE HELP!