I am disappointed that Mark Bissoinette's new book hasn't elicited a conspiracy theory reaction at all! Everything related to Osama bin Laden is surrounded by conspiracy. From the 9/11 Truth Movement to the bizarre lack of photos of Osama's assassination, next to a Pakistani military base, by Navy Seals (immediately followed by the death of 22 Navy Seals in a bizarre helicopter crash), it's been a conspiracy cornucopia that makes the Kennedy assassinations look cut and dried.
So now, this book comes out, with a first run of about a zillion copies and so much hype about how it "contains top military secrets" and "breaks OPSEC regulations" and "might be banned" that it's outselling pornography and everything else. The Pentagon and White House, for all their blather about how these secrets are so important and amazing, sure haven't done jack shit to stop the book's release or punish the author. It's just been hype. Deliberately timed to coincide with the DNC convention.... just like Osama's death was deliberately timed to coincide with the Windsor-Middleton wedding!!!
I just feel like the conspiraphere is being lazy about this. The one thing we all learned from Salman Rushdie (other than "Why use a word with two syllables when there's a perfectly good phrase with 27 that could stand in its place") is that the best way to sell books is have a hated Muslim leader say you shouldn't read it, while releasing as many copies of said book into the world at the same time. Cue Obama saying this guy broke OPSEC rules or whatever. Of course right wingers and most military types are going to rally around the "Navy Seal" who "wrote" it. And then the FOX News crowd will follow, and eventually a majority of people.
And, while they think they're somehow hurting Obama, this just publicizes that the Obama administration killed Osama bin Laden, on the day the DNC Convention starts. Most of us had pretty much forgotten the Osama bin Laden thing, or just remembered that no pics were released (ahem), and were focused instead on the US economy. Which, frankly, Obama sucks at, although he's pretty good at killing Osama bin Laden.
My proposed conspiracy? All this book hype was by design. It just makes sense within the context of all the other Osama conspiracies.
Will the real bin Laden please stand up, please stand up, please stand up?
[youtube]http://www.youtube.com/watch?v=SDTEEXG3ge8[/youtube]
"...the man who murdered Osama bin Laden back in 2001"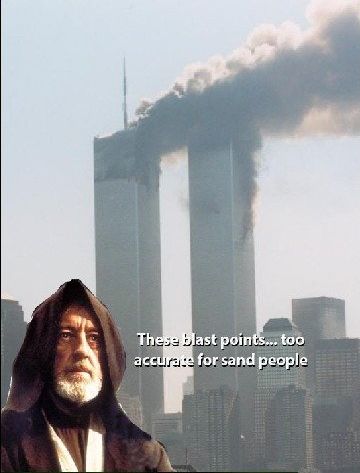 Building Seven: Nevar Forget!!!1!
http://en.wikipedia.org/wiki/9/11_conspiracy_theories