Now that hummers are driven by soccer moms - The Gurza Armored Patrol Car - Built Azeri tough.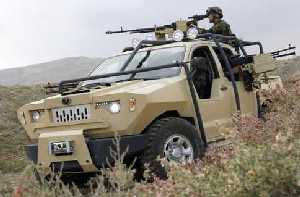 Azerbaijani produced "Gurza" patrol vehicle on the base of Toyota HİLOYX 12. Special Operations Vehicles.
Azerbaijan-produced military vehicle will be demonstrated at an international exhibition for the first time in the history of the country's military-industrial complex.
APA reports that Gurza patrol vehicle designed by the Ministry of Defense Industry for security forces, will be exhibited at IDEF-2013 in Istanbul, Turkey between May 7 and 10.
The military vehicle will be exhibited in fully armed form.
Gurza patrol vehicle produced on the base of Toyota HILYX 12 is equipped with 4x4 all-wheel drive and is able to afford to carry 2500 kg of cargo. A 12.7 mm machine gun, which is capable of rotating 360 degrees and hitting the target at an angle of 45 degrees, is deployed on the vehicle and two 7.62 machine guns on each sides. Automatic grenade launcher and other devices can also be added to the vehicle. The machine is equipped with a motor-road 114 horsepower.
The crew has 5 members, including the driver and commander.